Oncocare Project aims at improving oncological care




in the Euregio Meuse-Rhine
With the support of the european regional development fund,
The European Union investing in your future
OncoCare (Euregio quality and innovative patient-centered cancer care) is an Interreg project supported by the European Regional Development Fund and partners' regions. OncoCare has an ambitious vision of improving the quality of cancer care throughout the Euregio. It proposes well-developed and realistic actions focusing on organizational and technological innovation with immediate results for the population.
The main objective is to bring the Euregio Meuse-Rhine as leader in cancer treatment, by managing 3 challenges, led by strong coordination skills and transparent communication and dissemination on the project's output to stakeholders (patient associations, general practitioners, oncology professionals…) and the general public.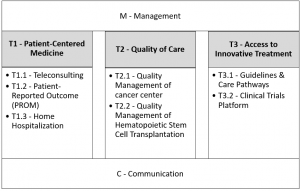 The OncoCare project proposes synergistic strategies between 6 academic institutions (1 non-university has withdrawn) and a private company for sustainable innovation and quality-of-care, thus contributing to regional development and the well-being of the population. The proof-of-concept of the different tools in non-academic hospitals will allow outreaching the program to all rural and urban parts of the Euregio Meuse-Rhine.